Danbury, Connecticut, February 17, 2020 – Belimo Americas Retrofit App now includes a sensor module. The global application tool offers a full range of air, water, and now sensor products along with enhanced features providing you with fast HVAC replacement solutions. The Retrofit App enables you to find retrofit products based on a variety of parameters, such as manufacturer, model, voltage, control type, torque, running time, and close-off requirements. Poorly functioning or even nonfunctioning systems can be transformed into more efficient systems by finding the right replacement. Replacement solutions are compatible with all major control systems, so there is no need to replace other system controls. The App is free and is available from the iTunes store or Google play.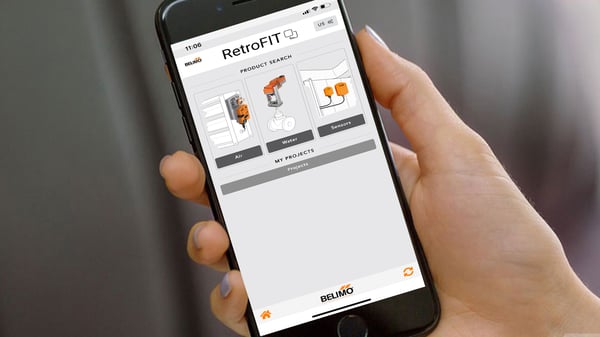 "The new Retrofit App is a great tool! With quick results and over 1GB of technical data to efficiently help facility managers, distributors, end-users, and even sales team to locate the best replacement solution in real-time with part numbers and pricing," states Danielle Kaminsky, Belimo Product Specialist. 
Google Play and the Google Play logo are trademarks of Google Inc. 
# # #
The Belimo Group is a leading global manufacturer of innovative electrical actuator, valve, and sensor solutions for heating, ventilation, and air conditioning systems. The Company reported sales of CHF 693 million in 2019 and has approximately 1,900 employees. Information about the Company and its products is available on the internet at
www.belimo.com
.
The shares of BELIMO Holding AG have been traded on the SIX Swiss Exchange since 1995 (BEAN).
Airside Economizing is a great way to reduce operating costs; it also provides the correct ratio of outside air and return air to deliver the proper indoor air quality (IAQ) to meet the codes and provide occupant comfort. Studies have shown that up to 70% of economizers are not functioning correctly. Many times economizer systems are set up incorrectly or are left to operate in factory default mode. Many failures go undetected, costing building owners unnecessary expense and energy standards and building IAQ requirements are not met. The ZIP Economizer with BACnet capability gets efficiency strategies back on track with easy setup, automatic code change over temperatures, and superior troubleshooting capability. The ZIP's BACnet objects will allow facility managers to configure the economizer logic and monitor its performance through the Building Management System (BMS).
Airside economizing (using outdoor air as a cooling medium when conditions are suitable) is one of the smartest ways for buildings to save energy. The ZIP Economizer is designed to provide the most energy savings through advanced economizer logic strategies and is compliant with the most recent energy codes and standards (ASHRAE 90.1, IECC, California Title 24, ASHRAE 189.1). Efficient Free Cooling With the relevant climate zone and energy code data built-in by simply entering your ZIP code, you automatically maximize energy savings and meet compliance criteria with all codes and standards. Fault Detection & Diagnostic The ZIP Economizer quickly troubleshoots faults, initiates alarms, and reconfigures for the best operation. Plug and Play With its the self-configuration, if it is not plugged into the economizer, you will not have to worry about setting it up. "The ZIP Economizer offers 75 BACnet data points available over the BMS to facilitate custom control sequences to provide enhanced system performance and troubleshooting details." Frank DiPaolo, Product Specialist, Belimo Americas