Dear Lynxspring Technology and Business Partners,
Welcome to Lynxspring eNews, February 2021 Update. We have lots of exciting news to share.

On January 25th, we announced the availability of Onyxx LX™, our new portfolio of BACnet® MS/TP configurable, ASC controllers, smart thermostats, and digital room sensors. Delivering powerful control, connectivity, and visualization, the Onyxx LX portfolio offerings, natively support the BACnet protocol and are BTL certified. Login to your Resources Partner portal to access the Data Sheets: resources.lynxspring.com/onyxx-lx.
Full featured the Onyxx LX portfolio:
Are Niagara configurable.
Have simple configuration parameters.
Come factory pre-programmed with typical applications for HVAC Equipment and VAV Box.
Pre-built, configurable graphics along with site specific graphics and scheduling.
Can be deployed as a standalone solution for small to mid-size projects and integrated into any enterprise BACnet Platforms.
Ideal to provide automation to a market segment normally serviced by standalone applications.
Competitively priced.
Contact your Regional Sales Manager for more information and pricing. To place an order, contact orders@lynxspring.com.
Lynxspring and Tridium, Together Since 1999
Lynxspring's relationship with Tridium spans 22 years. If you missed our recent webinars on January 13th and January 20th, in which we discussed our relationship and we looked at the features of Niagara release 4.9 and a took a sneak peek into release 4.10, you can find these recordings below:
Review of Lynxspring/Tridium Partnership and Highlights of Niagara 4.9 & 4.10.
Review of Lynxspring/Tridium Partnership and Sneak Peek at Niagara 4.10.

New Tech Tip Initiative
Lynxspring's Marketing and Communications, Technical Support and Training teams are working together to create more tech tips, best practices and "how-to" videos. Here are two new tech tip videos that are now available by clicking on the links for each below:
Lynxspring Tech Tips: License Error
Lynxspring Tech Tips: Onyxx Drivers
We would welcome your input on any subjects you'd like to see in the future. Contact marketing@lynxspring.com.

Industry News
Two notable recent initiatives from the Biden administration to keep in mind:
Through the "Green New Deal", the administration intends to upgrade four million buildings across the U.S.
Issued executive order imposing new rules on government procurement practices to increase purchases of products made in the U.S. The revised policies, which will apply to the administration's plans for infrastructure and energy projects, will have ramifications for construction firms that do business with the federal government. Note: Our JENEsys Edge portfolio of products do qualify and meet the requirements of "Made in the USA".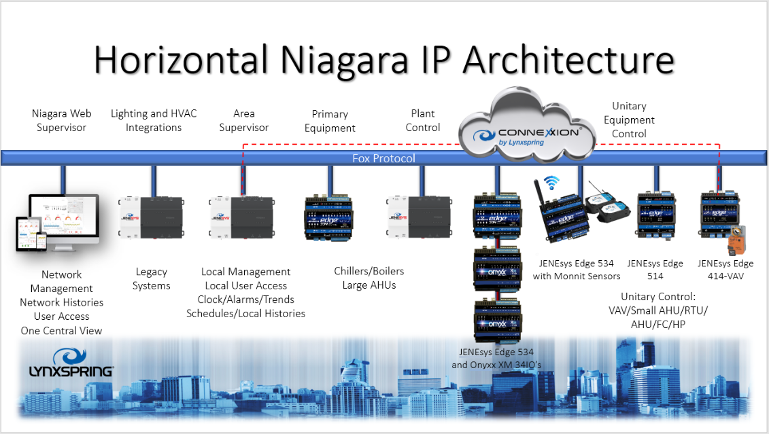 Horizontal Niagara IP Architecture
With the JENEsys® Edge™ portfolio, you can create and deploy a Horizontal Niagara IP Architecture.
The Horizontal Niagara IP Architecture:
Provides a single, unified software platform and tool.
Eliminates comms devices and complexity. Enables IP based peer to peer – direct access.
Vulnerability, patching and remediation – easier and faster. Legacy integration capabilities remain.
Application integrations remain.
Secure IP network.
Simplified installations.
Supports Multiple protocols & 3rd party applications at the Device Level.
BACnet/IP, BACnet/MSTP, Modbus, Wi-Fi, 4G LET Cellular, Monnit in the same controller.
Run Applications at the Edge.
Enhanced security at the Device Level.
True Peer-to-Peer Communications Fully Independent of Supervisory Network Controllers.
No Additional Training Required for Niagara Certified Buyers/Software Tools.
One Single Software.
Supports Legacy BAS Drivers.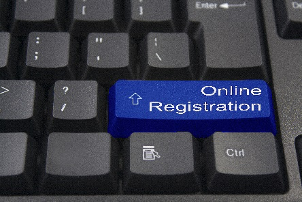 Partner Resources Available to You
We also want to remind you of the many tools and resources available on Lynxspring's Resources Partner Portal: resources.lynxspring.com.
Here you have access to an assortment of product technical documentation, pricing catalogs, software downloads, drivers, tech tips, Visio/AutoCAD drawings, guide specifications, how-to-videos and webinars, Edge-Centric Applications, and our Lynxspring Learning Center (a library of Niagara computer-based training modules).
If you are a Lynxspring Partner and have not yet registered for access, please register at: resources.lynxspring.com/register-for-an-account .

Niagara Training
Lynxspring's industry-recognized and instructor-led NIAGARA 4 CERTIFICATION TECHNICAL TRAINING and APPLIED NIAGARA 4 courses are available VIRTUALLY! Check out the upcoming schedule and course descriptions at: www.lynxspring.com/training.
New Hires
We continue to add new personnel with recent two additions to our Professional Services group, and an addition to the Orders/Product Fulfillment team.
Need assistance? Need answers to questions? Just want to chat?
Lynxspring is here to assist you anytime. Just let us know:
sales@lynxspring.com
orders@lynxspring.com
support@lynxspring.com
licensing@lynxspring.com
marketing@lynxspring.com
Thank you for your continued business and support.
Sincerely,
Marc Petock
Chief Marketing & Communications Officer
Lynxspring, Inc.
Phone: (816) 347-3500
marc.petock@lynxspring.com
www.lynxspring.co